Home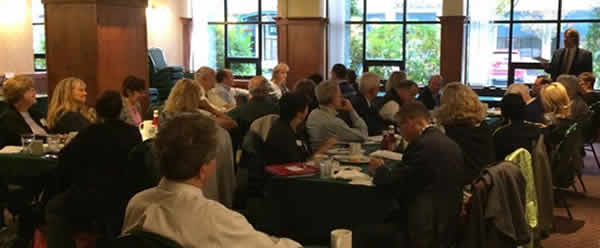 WELCOME to the North Shore Business Forum
Upcoming Programs 
Learn How to Take Control of Your Health and Fitness at the North Shore Business Forum Meeting on Friday, November 4, 2016 
Even though we know our health is our wealth, too many of us business owners don't always pay enough attention to our health and fitness. At the North Shore Business Forum meeting on Friday, November 4, 2016 at Acapulcos, 900 Cummings Center, Beverly, MA, speaker David Knight, nutritionist and personal trainer with Spectrum Fitness, will outline the biggest reasons people don't exercise and how to overcome those obstacles by taking control of their health and fitness. Registration begins at 7:15 AM, and the meeting runs from 7:30 to 8:30. Admission is $10 at the door, and includes a buffet breakfast. Visit www.nsbforum.org for more information.
About the Speaker: David Knight has been a nutritionist and personal trainer at Spectrum Fitness in Beverly, MA, for six years. He is a Certified Nutritionist and a Certified Strength and Conditioning Specialist, and holds a Bachelor of Science degree in Athletic Training from Salem State University. For more information, contact David at dave@spectrumfit.net or visit www.spectrumfit.net .
The North Shore Business Forum, Inc. (NSBF) is a group of small business owners from Boston's North Shore who meet on the first and third Friday of each month for informal lectures given by business owners on a wide variety of topics. Members give a 30-second introduction of their business at each meeting. All business owners are welcome: future, past, profitable, experienced or beginning. Meetings are from 7:30 to 8:30 a.m. (registration starts at 7:15) at Acapulcos, 900 Cummings Center, Beverly, MA. The $10.00 admission fee includes a breakfast buffet. No pre-registration necessary.
Contact: Brett Kirkpatrick, NSBF President, 978-239-6335, Email: events@nsbforum.org.
The "Meeting After the Meeting" Returns!
The North Shore Business Forum is re-instituting the concept of having members share their expertise with other members on an informal basis, in brief, no-cost sessions after its Friday morning networking meetings.
If you are an NSBF member with an interest in offering your own "Meeting After the Meeting" session in the future, please see NSBF President Brett Kirkpatrick at one of our meetings, or email him at events@nsbforum.org .
**  WEATHER-RELATED CANCELLATIONS  **
If the Beverly, MA public school system announces a "no school" snow day on one of our scheduled Fridays, then the NSBF meeting for that day will be cancelled. Check the NSBF Facebook page for updates as well. (See our "About NSBF" page for more information.)